Sheyang vessel
Production information
Manufacturer
Technical specifications
Length

200 meters

Width

50 meters

Height/depth

150 meters

Armament

One twin energy cannon

Crew

25

Passengers

75

Usage
Year introduced

(1.07 "PK Tech Girl")

Affiliation

Sheyang scavengers

  [Source]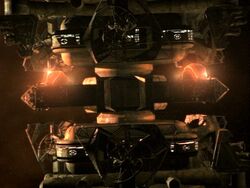 Sheyangs do not possess a fleet, though numerous raiding ships can be found throughout space. Their vessels are often heavily modified, due to the amount of technology they scavenge from other ships.
Ad blocker interference detected!
Wikia is a free-to-use site that makes money from advertising. We have a modified experience for viewers using ad blockers

Wikia is not accessible if you've made further modifications. Remove the custom ad blocker rule(s) and the page will load as expected.