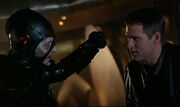 A scarran blood vow is an agreement made between two, or presumably, more participants, in which the participants make a vow and seal the vow by drinking one another's blood as it gushes from a freshly opened wound. This Scarran ritual, when experienced by John Crichton confirms his first impression of Scorpius as seen in the episode Nerve and recalled in the episode Prayer.
Appearance
Edit
Ad blocker interference detected!
Wikia is a free-to-use site that makes money from advertising. We have a modified experience for viewers using ad blockers

Wikia is not accessible if you've made further modifications. Remove the custom ad blocker rule(s) and the page will load as expected.