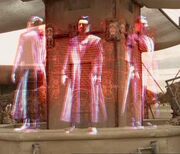 A Peacekeeper wanted beacon was a combined data store and projection device used by the Peacekeepers to announce a person's wanted status and to offer a bounty.
They were left on planets, space stations, and spacecraft in areas where targets had been sighted, primarily in common areas.
They were deployed by Crais to announce the escape of D'Argo, Rygel, and Zhaan. The ability of these beacons to act as covert means of communication was revealed when Aeryn Sun input an identifying code and heard a private offer of "Amnesty".
Ad blocker interference detected!
Wikia is a free-to-use site that makes money from advertising. We have a modified experience for viewers using ad blockers

Wikia is not accessible if you've made further modifications. Remove the custom ad blocker rule(s) and the page will load as expected.