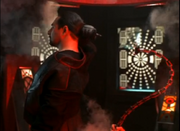 A neural transponder was an implant that gave a creature direct interface with the ship that bestowed it and access to every system: senses, propulsion, and weaponry. The feeling was apparently "indescribable."
Bialar Crais received one from Talyn. It was applied via a metallic tentacle-like appendage referred to by Crais as a "Hand of Friendship." ("Mind the Baby")
Ad blocker interference detected!
Wikia is a free-to-use site that makes money from advertising. We have a modified experience for viewers using ad blockers

Wikia is not accessible if you've made further modifications. Remove the custom ad blocker rule(s) and the page will load as expected.