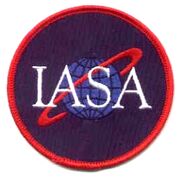 First Appearence: (1.01 "Premiere")
The International Aeronautics and Space Administration (IASA) was an alliance of space agencies. Personnel included Jack Crichton, a NASA astronaut who was in rotation during the Challenger event.
The agency was responsible for John Crichton's ill-fated Farscape Project and had facilities in Australia.
The launch facilities were based out of Cape Canaveral.
Ad blocker interference detected!
Wikia is a free-to-use site that makes money from advertising. We have a modified experience for viewers using ad blockers

Wikia is not accessible if you've made further modifications. Remove the custom ad blocker rule(s) and the page will load as expected.