Ad blocker interference detected!
Wikia is a free-to-use site that makes money from advertising. We have a modified experience for viewers using ad blockers

Wikia is not accessible if you've made further modifications. Remove the custom ad blocker rule(s) and the page will load as expected.
Nurse Froy is the nurse of Scorpius, who, unlike most Peacekeepers, seems to have his best interests in mind.
Character History
Edit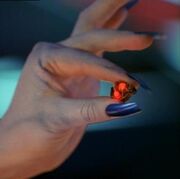 Nurse Froy was assigned or requested to serve as Scorpius's nurse. Her appearance is very blue, her eyes, hair, and nails are all blue. She wears a standard Peacekeeper uniform.
She was present when Scorpius pursued his trip into the Neuro biotracer chip that was extracted from John Crichton, but advised against it. Though she warned Lt. Braca against continuing to allow Scorpius to pursue his probe of the Neurochip, he insisted that she leave Scorpius be, despite his obvious distress. When she attempted to intervene while Scorpius was convulsing and unconscious, she was knocked out by Braca. While she proved her loyalty and devotion to Scorpius he condemned her choice of actions. Her eventual fate remains unknown. ("Incubator")