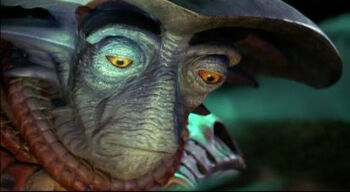 Welcome to new home of the original Farscape Encyclopedia Project! This site is only the latest incarnation of the ongoing Farscape Encyclopedia Project.
Formerly of Farscape-1.com this new site will house all of the original profiles, articles, summaries, pictures, etc. from the old site plus completely new and updated work completely user created.
There still remain a lot of stubs as we expand the depth and scope of the information the FEP can compile.

The site was established in 2006 by the Two Adams, Adam Roth and Adam Garcia, whose undying love of Farscape pales only to their undying love of battling space demons.
PLAGIARISM IS NOT TOLERATED BY THE FASRCAPE ENCYCLOPEDIA PROJECT! PLEASE READ THE PLAGIARISM SECTION OF OUR TALK PAGE TO LEARN MORE.
Ad blocker interference detected!
Wikia is a free-to-use site that makes money from advertising. We have a modified experience for viewers using ad blockers

Wikia is not accessible if you've made further modifications. Remove the custom ad blocker rule(s) and the page will load as expected.