You may be looking for the final comic issue, The Beginning of The End of The Beginning.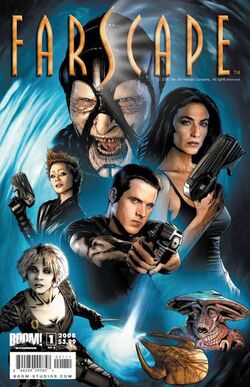 The Beginning of the End of the Beginning was the first story arc and miniseries in Farscape's comic book series set after Farscape: The Peacekeeper Wars.
Miscellaneous
Edit
The cover of the graphic novel reprints the cover used for the original first issue of the Farscape comic. Sikozu appears on the cover, even though she does not actually appear at any point in the storyline.
Collections
Edit
Ad blocker interference detected!
Wikia is a free-to-use site that makes money from advertising. We have a modified experience for viewers using ad blockers

Wikia is not accessible if you've made further modifications. Remove the custom ad blocker rule(s) and the page will load as expected.