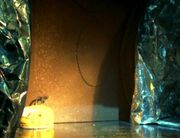 DRD "Pike" was named by John Crichton after Captain Christopher Pike of Star Trek, who communicated through the use of blinking lights – "once for yes, twice for no."
"Pike" served as the main means of communication with Moya while Pilot was being inhabited by the energy rider Tallip, and was accidentally destroyed when it was trapped inside the Starburst chamber during the final expulsion attempt.
Although Pike exhibited uncharacteristic personality for a DRD, this may be attributed to it serving as conduit for the opinions of Moya more-so than an individual personality.
Appearances
Edit
Ad blocker interference detected!
Wikia is a free-to-use site that makes money from advertising. We have a modified experience for viewers using ad blockers

Wikia is not accessible if you've made further modifications. Remove the custom ad blocker rule(s) and the page will load as expected.