Ad blocker interference detected!
Wikia is a free-to-use site that makes money from advertising. We have a modified experience for viewers using ad blockers

Wikia is not accessible if you've made further modifications. Remove the custom ad blocker rule(s) and the page will load as expected.
Astrographical
Sector
Physical
Societal
Native species

Various

Official language

Various

  [Source]
This Commerce Planet was a small planet used primarily for trading.
After escaping the Peacekeepers, Moya was able to locate this small Commerce Planet in the Uncharted Territories. The Moya's crew was hoping to find supplies in order to make repairs to Moya. Rygel, Zhaan, and Ka D'Argo headed down to the planet and Rygel bartered with a shop owner for barrels of iriscentant fluid.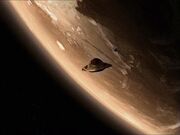 When Aeryn Sun and John Crichton escaped from custody aboard Moya, they headed to the planet in Aeryn's Prowler. Upon their arrival, she contacted Crais aboard his command carrier. Soon after, Pilot informed D'Argo of the command carrier's approach. D'Argo dragged Rygel out of his barter and sent Rygel and Zhaan back to Moya while he went to confront Aeryn and Crichton. He encountered them almost simultaneously with the Peacekeeper force Crais had brought. The three were taken into custody, but managed to escape back to Moya on Aeryn's Prowler. ("Premiere")