Ad blocker interference detected!
Wikia is a free-to-use site that makes money from advertising. We have a modified experience for viewers using ad blockers

Wikia is not accessible if you've made further modifications. Remove the custom ad blocker rule(s) and the page will load as expected.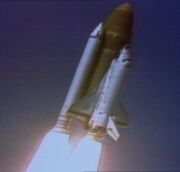 The NASA Space Shuttle Challenger was an Earth space exploration vehicle that was first launched in the early 1980s as one of a fleet of similar vehicles. On January 28, 1986, Challenger exploded soon after take off, killing her seven-member crew.
In the alternate reality created when John Crichton accidentally rode a wormhole back to Earth, but to the 1980s, he learned that his father, Jack Crichton, had been the pilot of the ill-fated mission, something he was not in the "real world." ("Kansas")