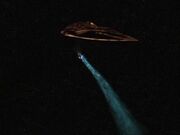 Cesium fuel was a phosphorescent fuel that powered many of the Peacekeeper crafts, including Marauders. Apparently made of cesium, an alkali metal, it was also seen powering Leviathans (albeit Talyn was a Peacekeeper/Leviathan hybrid). Damaged vessels were usually seen leaking cesium fuel, and could also vent it if the need arised.
Ad blocker interference detected!
Wikia is a free-to-use site that makes money from advertising. We have a modified experience for viewers using ad blockers

Wikia is not accessible if you've made further modifications. Remove the custom ad blocker rule(s) and the page will load as expected.