Gone and Back, Part 4
Attribution
Writer
Penciller
Inker
Letterer
Colorist
Cover artist
Editor
Publication information
Publisher

BOOM! Studios

Publication date
Pages

24

General information
Timeline

Post-Peacekeeper Wars

Series
Issue number

4

Preceded by
Followed by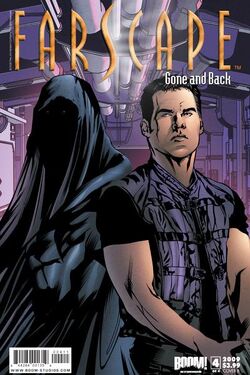 All Fall Down is the fourth issue of the third arc and miniseries of the Farscape comic series set after The Peacekeeper Wars.
Publisher's Summary
Edit
John Crichton and Aeryn Sun... together again for the first time! Crichton, Zhaan, D'Argo and the tracker Roiin have infiltrated the Peacekeeper ship, and they have found Lieutenant Sun! What does she do when she comes to face with a stranger who says he's loved her for years?
Appearances
Edit
Characters
Edit
Unrealized reality
Edit
Locations
Edit
Organizations and Titles
Edit
Sentient Species
Edit
Vehicles and vessels
Edit
Weapons and technology
Edit
Miscellaneous
Edit
Crichtonisms
Edit
Ad blocker interference detected!
Wikia is a free-to-use site that makes money from advertising. We have a modified experience for viewers using ad blockers

Wikia is not accessible if you've made further modifications. Remove the custom ad blocker rule(s) and the page will load as expected.